This lettuce variety contains vitamins A and C, which help support skin health and immune function. Green leaf lettuce also contains more than 100% of the daily value for bone-healthy vitamin K. The Framingham Heart Study found that elderly people who consumed approximately 250mcg per day of vitamin K (a single serving of green leaf lettuce supplies 148mcg) had a 35% lower risk of hip fracture than those who consumed only 50mcg per day. The beta-carotene in green leaf lettuce helps with vision in dim light, while lutein and zeaxanthin protect the eye from the sun's damaging rays, making this leafy vegetable super eye-healthy.
Due to its extremely low calorie content, 15 calories per 3 1/2-oz (100 g) serving, and high water volume, lettuce is probably the most famous diet food. In fact, the term "salad" is often synonymous with "lettuce." Since it is primarily water, lettuce provides little health benefit beyond its nutrient content.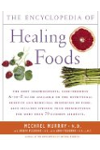 More About this Book
Encyclopedia of Healing Foods
From the bestselling authors of The Encyclopedia of Natural Medicine, the most comprehensive and practical guide available to the nutritional benefits and medicinal properties of virtually everything...
Continue Learning about Health Value Of Foods