The hazelnut is one healthy nut. It's a good source of vitamin E, an antioxidant that can help protect cells from damage and may help keep your immune system strong. Hazelnut also is low in cholesterol and a source of heart-healthy fats. In fact, eating a handful of hazelnuts a day, or other healthy nuts like almonds or walnuts, may reduce your risk of heart disease. Other research has linked hazelnuts with a lower risk of some cancers, and recently, a large study found a potential link between vitamin E-rich diets and a lower risk of dementia.
Hazelnuts, also referred to as filberts or cobnuts, are the top nut source of those heart healthy monounsaturated fats, which may raise levels of HDL and reduce the risk of clogged arteries. They are also excellent sources of manganese, copper and Vitamin E.
The health benefits of hazelnuts are similar to those of other nuts that provide a high content of monounsaturated fat and arginine. In a recent animal study, the effect of adding hazelnut oil to a diet high in cholesterol was evaluated. Initially, when rabbits were fed a high-cholesterol diet, a number of risk factors for cardiovascular disease increased significantly, including blood levels of oxidized lipids (fats), and levels of LDL (bad) and VLDL (very bad) cholesterol. When the rabbits' high-cholesterol diet was supplemented with hazelnut oil, not only did levels of oxidized lipids, LDL, and VLDL drop, but so did the number of atherosclerotic lesions that had formed in their aortas.

One reason for these very beneficial effects -- besides hazelnuts' high levels of monounsaturated fats -- may be their exceptional concentration of copper, a key component, in the intracellular form, of an important antioxidant enzyme called superoxide dismutase, which disarms free radicals that would otherwise damage cholesterol and other lipids. Just 1-oz of hazelnuts supplies 41 percent of the RDI of copper.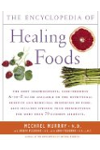 More About this Book
Encyclopedia of Healing Foods
From the bestselling authors of The Encyclopedia of Natural Medicine, the most comprehensive and practical guide available to the nutritional benefits and medicinal properties of virtually everything...
Continue Learning about Health Value Of Foods

A healthy diet is rich in foods with high nutritional value, providing your body with the vitamins, minerals and other food nutrients it needs to protect against disease and maintain a healthy weight. To identify healthy foods, it...
's important to read nutrition labels and know the source of your food. Products advertised as whole-grain, organic or fortified may not necessarily be healthy for you. Find out how to get the most health value from various fruits, nuts, spices, oils and vegetables -- and learn which types of red meat and processed foods to avoid -- with expert advice from Sharecare.
More