Following are some of the health benefits of eating cherries:
The dark red color of cherries comes from the content of anthocyanins. The anthocyanins and the phytochemicals, hydroxycinnamic acid and perillyl alcohol, are what give cherries their antioxidant power. These antioxidants help reduce inflammation in the body and may stimulate self-destruction of cancer cells.
Cherries are a good source of vitamins C and A, dietary fiber and potassium.
Eating cherries may reduce the risk of colorectal, mouth, pharynx, larynx and lung cancer.
Quick tips: Enjoy sweet cherries raw, poach for a delicious sauce to pair with meat or add dried cherries to salads or hot and cold cereal in the morning.
Cherries don't just taste good. A source of dietary fiber, vitamin C and antioxidants, they are good for you, too. Tart cherries pack an even greater antioxidant punch.
If you live close to where cherries are grown, take the family for a day of picking fruit in the orchard. It's great fun and there is no better way to teach children about where our food comes from. And you won't find a better tasting cherry than one that you have just harvested.
Cherries came in 10th in antioxidant activity per serving on the USDA list. In addition, several studies have linked cherry consumption with the alleviation of inflammation, arthritic pain and gout, making cherries a superfood for the joints. Researchers at the USDA Agricultural Research Service found that five hours after eating about 45 Bing cherries, women's levels of plasma urate (which accumulates in the joints during a gout attack) decreased by 15 percent.
Cherries may offer significant anti-cancer protection. In research conducted at Michigan State University, two of the anthocyanidins found in cherries—isoquerxitrin and quercetin—have been found to inhibit the growth of colon cancer. Tart cherries also contain perillyl alcohol (POH), a natural compound that appears to be extremely powerful in reducing the incidence of all types of cancer. Recent research suggests that POH shuts down the growth of cancer cells by depriving them of the proteins they need to grow. In studies, POH has performed favorably in the treatment of advanced carcinomas of the breast, prostate and ovary, and has also exhibited chemo-preventive activity in preclinical breast cancer tests.
Finally, cherries are particularly useful in the treatment of gout. Gout is a type of arthritis associated with an abnormally high concentration of uric acid in the blood. Uric acid is produced in the liver and enters the bloodstream. Under certain circumstances, the body produces too much uric acid or excretes too little. As uric acid concentrations increase, needle-like crystals of a salt called monosodium urate form. In time, these crystals accumulate in the joints, causing the inflammation and pain typical of gout. Cherries' anthocyanidins have been shown to inhibit the activity of xanthine oxidase, the enzyme involved in the production of uric acid. Clinical studies have shown that consuming the equivalent of a 1/2 lb of fresh cherries per day is very effective in lowering uric acid levels and preventing attacks of gout.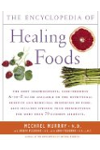 More About this Book
Encyclopedia of Healing Foods
From the bestselling authors of The Encyclopedia of Natural Medicine, the most comprehensive and practical guide available to the nutritional benefits and medicinal properties of virtually everything...
"Cherries are a superfruit, and a rich source of powerful disease-fighting antioxidants called anthocyanin's, which give cherries their cherry-red color," says Wendy Brazilian, D.Ph., RD, author of The SuperFoodsRx Diet and nutrition advisor at Golden Door fitness resort and spa in Escondido, California. She notes that "anthocyanin's, also found in raspberries, blueberries and beets, help scavenge nitric oxide and decrease inflammation in the body—an important risk factor for heart disease."
In a recent animal study, a cherry-enriched diet lowered total cholesterol and triglycerides, further suggesting the potential benefits of cherries for heart health. Fresh, sweet cherries are abundant in summertime, but you can find cherries year-round. Look for dried or frozen tart cherries, or tart cherry juice. Try dried cherries in your oatmeal, muffins or salads, or sauteed over fish. Add frozen cherries to smoothies and use cherry juice in sauces and salad dressings, or as a beverage (add to green tea or drink alone).
Continue Learning about Health Value Of Foods