Asparagus contains inulin, a prebiotic fiber that's indigestible by humans but can selectively nourish the "good" gut bacteria that line our intestinal tract and thereby protect us against "bad" bacteria, like E. coli. Asparagus tests highest among sources of glutathione, one of the most potent antioxidants, according to the National Cancer Institute.
Asparagus has historically been used in the treatment of arthritis and rheumatism, and as a diuretic. The diuretic effect of asparagus may be due to the amino acid asparagine, which when excreted in the urine gives off a strong, characteristic odor.

The benefit in arthritis may be the result of recently identified phytochemical antioxidants (racemofuran, asparagamine A, and racemosol), as well as inhibitors of the COX-2 enzyme, which produces inflammatory compounds.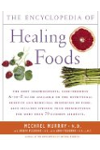 More About this Book
Encyclopedia of Healing Foods
From the bestselling authors of The Encyclopedia of Natural Medicine, the most comprehensive and practical guide available to the nutritional benefits and medicinal properties of virtually everything...
Continue Learning about Health Value Of Foods

A healthy diet is rich in foods with high nutritional value, providing your body with the vitamins, minerals and other food nutrients it needs to protect against disease and maintain a healthy weight. To identify healthy foods, it...
's important to read nutrition labels and know the source of your food. Products advertised as whole-grain, organic or fortified may not necessarily be healthy for you. Find out how to get the most health value from various fruits, nuts, spices, oils and vegetables -- and learn which types of red meat and processed foods to avoid -- with expert advice from Sharecare.
More