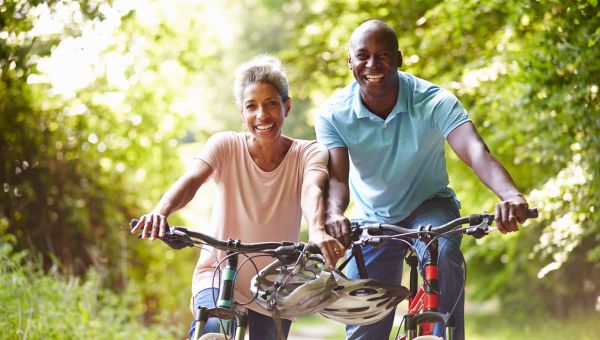 These recent smoking, obesity, fitness and mental health trends show how American well-being measures up to years past.
If you watch health stories on the evening news, it sounds like Americans are sicker than ever before. The reality? Americans view their lives and overall well-being more positively. According to the Gallup-Sharecare Well-Being Index, just over 55 percent of adults are "thriving." That's up from 49 percent in 2008, when they began measuring the "five elements" of well-being: sense of purpose, social relationships, financial security, relationship to community and physical health.
This increase is in line with a few key trends: We smoke less, exercise more and have better access to health care overall. But those positive changes don't quite tell the whole story; obesity and diabetes are up, as is the incidence of depression.
Read on for a deeper look at these crucial well-being developments, along with some smart suggestions for improving your own health.
What's improving
In 2008, the American smoking rate hovered around 21 percent, according to Gallup and Healthways. Today, it's down to a stunning 18 percent—no small feat in a country where almost half a million people die of smoking-related causes per year. The drop is due to more adults quitting, and far fewer kids and teenagers picking up cigarettes in the first place, though e-cigarette use is increasing. Anti-smoking campaigns, cigarette taxes and bans from lighting up in public places have been cited as key factors there.
Another positive change: The overall exercise rate is climbing. Groups that exercise the most include millennials, people with higher incomes and folks living in Western states like Colorado. The Bureau of Labor Statistics found our physical activities of choice include walking, weightlifting and swimming, though organized sports like basketball and golf are popular options, as well.
Then there's health care. According to Gallup and Healthways, over the last few years, the number of American adults reporting that they have health insurance rose, while the number who said they had trouble affording health care once in the last 12 months dropped. That could be the result of an improving economy, or legislation implemented to make access easier. Either way, it means more healthcare access for more people.
What's getting worse
Of course, when it comes to well-being, some things aren't changing for the better. Two of the most disturbing trends: increases in rates of obesity (28.4 percent) and diabetes (11.6 percent), each at nine-year highs. The South is disproportionately affected, with states like Oklahoma, Arkansas and Mississippi scoring well over the national average for both conditions. The reasons? More poverty, less physical activity and poorer eating habits, to name a few.
Also notable: a rise in the depression rate, with more than 1 out of 6 American adults (17.8 percent) reporting having been diagnosed with depression at sometime during their lifetime. In addition to mood and self-worth, depression can negatively impact everything from sleep patterns to heart health, and is a major factor in suicides. Though anyone can be depressed, Gallup and Healthways found that married people tend to be somewhat less prone than any other marital status.
How to help yourself
Whether you want to quit smoking, start a fitness regimen or get help for your depression, there are resources and initiatives—often free, frequently run by your workplace or community leaders—available to you. At the office, reach out to your human resources representative to learn what programs they have in place to improve employee well-being. It might be as simple as a seminar, or as complex as an entire health plan. For similar information at home, try dialing your town, county or state's department of human services.
Medically reviewed in September 2018.