During your pregnancy, many things can start waking you up in the middle of the night. As pregnancy progresses, you have to go to the bathroom more (more pressure on the bladder from your uterus), the baby moves more (the ultimate biological alarm clock), you have more breathing problems (the weight gain and big thing below your diaphragm push your lungs up, causing your airways to narrow), and you have more side effects that rustle you out of slumber (backaches, heartburn, leg cramps). And then, of course, there's the anxiety factor about the big change coming in your life.

It seems diabolical, but your body may have possible ulterior motive in rousing you during the night: it may be preparing you for waking up at erratic hours to perform night feeds.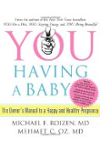 Continue Learning about Health & Pregnancy
One common myth is that when you are pregnant, you should be eating for two people. The truth is that you should be eating a healthy amount of fruit, vegetables, and meat high is omega-3s. If you up your caloric intake by 300 a da...
y, you will be eating plenty of food for both you and your baby. Along with taking prenatal vitamins, you should also continue you exercise and remain active during your pregnancy. Consult with your doctor for pregnancy approved exercising.
More