The first reason is because there are a number of STDs that can affect the pregnancy in terms of risks during pregnancy, but also certain infections can affect the health and well-being of a developing fetus. Syphilis can cause a congenital condition because it affects the fetus. Chlamydia, if left untreated, can cause significant infections in the eyes and respiratory system of a newborn. HIV, if diagnosed in pregnancy, can be treated appropriately and handled in labor and delivery to minimize the risk of transmission to the baby.
Pregnant women who are infected with sexually transmitted diseases (STDs) can suffer miscarriages or pass those infections on to their child during pregnancy or childbirth. Infants can suffer from resulting infections of the joints, eyes and blood. Most of these STDs , such as gonorrhea, syphilis and chlamydia, can be treated during pregnancy, which reduces risk to the infant. Others STDs, such as herpes and HIV/AIDS, can be detected, and measures can be taken to help prevent the infant from becoming infected. Early initial detection and retesting pregnant mothers when new infections are suspected are key to stopping the spread and side effects of STDs in pregnant women.
STD's can cause many complications with pregnancy if left undiagnosed. Chlamydia can cause blindness in the baby. HIV can be passed through the placenta to baby. Herpes can be passed to baby during delivery and cause severe infection possibly death. Gonorrhea and chlamydia can cause preterm labor. Knowing you have these we can either cure them (GC/chlamydia) to prevent problems or give antivirals (HIV/HSV) to decrease the baby's chance of getting the virus. If you have already had herpes in the past you have a very low chance of giving it to baby, but taking a herpes antiviral medication from 36 weeks on lowers that risk even more. We can lower the risk of the baby getting HIV immensely with medication. So why would any woman have a problem with getting checked???? Don't get offended get smart!
Because of the potential complications that can be passed to the fetus, you'll be screened for sexually transmitted diseases (STDs) as part of your prenatal visits. Some of the ones your doctor or midwife may talk to you about:
Herpes: While uncommon, it can be potentially fatal to the fetus. C-sections reduce the risk of transmission from Mom to baby.
Chlamydia: Pregnant women with untreated infections run the risk of having their babies acquire conjunctivitis and pneumonia.
Gonorrhea: If untreated in mom, infants may contract conjunctivitis and require antibiotics.
HIV: Transmission from mom to baby can happen in utero, during delivery, and during breastfeeding. If you are HIV positive, you should pick an OB/GYN who has experience delivering other women with HIV; babies need to be treated within the first hour of delivery.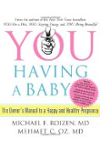 Continue Learning about Health & Pregnancy