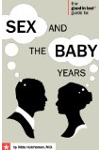 Any number of issues and concerns can damp­en a guy's desire. Some of the most typical:
• He's worried he'll hurt the baby. It's fairly common for men to believe that intercourse will somehow damage a growing fetus. Fortunately, this is near impossible.
• He's stressed about money. Even the most enthu­siastic of expectant fathers can find themselves awake at night, ruminating over their impending re­sponsibilities. "How will we afford a baby?" "Should we get a bigger house?" "Do we really need all these baby products?" Not surprisingly, these concerns -- which are totally normal -- don't exactly make for a sexy mood. During these difficult economic times, dads are feeling more financial stress than ever, which can manifest as a low libido.
• He's being polite. If a pregnant woman doesn't seem interested in sex, particularly if she isn't feeling well or is having a difficult pregnancy, her male partner may back off and not pressure her. Because such assumptions are just that -- as­sumptions -- it's best to talk with your partner to see if you're on the same page about sex before nixing it.
• He's jealous. Pregnancy can be tough for guys: They're often totally into the idea of having a baby, but there's a big shift in attention to mom, and some guys can feel left out and jealous of that attention.
• He's scared of change. Doctor visits, physical changes, exhaustion -- they're starting now, and he may be worried about how much more his life will change once the baby arrives.
• He's freaked out by fatherhood. Sure, he wants to be a dad, but unconscious emotions about his own childhood may be coming to the surface.
• He's just not that into it. Women aren't the only ones who experience low libido. Guys do, too -- and the reasons may have nothing to do with pregnancy. Health prob­lems, certain medications, and stress are just a few of the factors that can affect a man's sex drive. And some men just aren't into pregnancy sex. He may find it difficult to separate the "lover" from the "mother" and have trouble viewing you as a sexual being.
Communication is critical during pregnancy. Talk to him about your feelings and encourage him to talk about his as well....