Many of the reasons why your body needs restful sleep remain the same, whether you're pregnant or not. Your brain works like a computer. If you clean out and trash old files you don't use, your computer can work more efficiently. Sleep cleans out your neurological database, allowing you to both feel rested and think more clearly. It also helps improve your immune system and your brain function (neurons need a 90-minute period of uninterrupted sleep to restore neurotransmitter levels - that is, for your brain cells to recover normal activity), not to mention your skin and mood.

Plus, sleep helps boost growth hormone - the ultimate rejuvenating hormone that helps you keep an ideal body weight and shape.

And this is where sleep starts becoming extra important to pregnant moms. Growth hormone isn't just important for our own bodies; we also need growth hormone for growing the placenta and uterus. In a way, growth hormone helps counteract many of the stresses of pregnancy by ensuring fetal development during tough times.

Further, lack of sleep is perhaps the most important easily treated stressor for a mom. You're stressed out, so you don't sleep well. Then you feel tired and lethargic, and consequently worry about all the work that's piling up because you're too tired to deal with it. That leads to even more anxiety, which triggers that entire circuit all over again.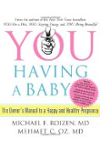 Continue Learning about Health & Pregnancy