As during other times in our lives when we experience great changes or challenges, having good support is key. Women who are supported by a partner, friends, and/or family cope better with stress during pregnancy and are less likely to feel anxious or depressed. Yet finding support can be difficult. One hurdle for many of us is asking for the help we need. Local support groups for pregnant women can be great sources of support and practical information. Special swimming and yoga sessions for pregnant women may provide you with such a group. Many groups offer emotional support for women with specific concerns (for example, depression) or identities (over forty, lesbian, etc.). Birth Networks are a specific type of support group dedicated to providing women with information about research regarding best birth practices, informed consent, informed refusal, and providers who will help you work toward the goal of a safe and satisfying birth. Most Birth Networks use the Internet to distribute information. If there is no support group in your community, you may want to start one.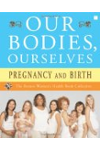 More About this Book
Our Bodies, Ourselves: Pregnancy and Birth
ALL THE INFORMATION YOU NEED TO MAKE WISE DECISIONS ABOUT YOUR PREGNANCY AND THE BIRTH OF YOUR CHILD -- FROM THE EDITORS OF THE CLASSIC "BIBLE OF WOMEN'S HEALTH" Pregnancy and birth are as ordinary...
Continue Learning about Health & Pregnancy