Many of us feel overwhelmed and exhausted at times during pregnancy. Finding support and other ways to take care of ourselves at these times can help foster the resiliency we need to cope with the challenges of pregnancy. You can take care of your emotional wellbeing in many ways: You may call a friend, go for a walk, cry, join a water aerobics class for pregnant women, make love, make art, garden, seek spiritual guidance, watch a funny movie, protest an injustice, cook, write in a journal, or find your own creative, individual response.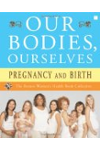 More About this Book
Our Bodies, Ourselves: Pregnancy and Birth
ALL THE INFORMATION YOU NEED TO MAKE WISE DECISIONS ABOUT YOUR PREGNANCY AND THE BIRTH OF YOUR CHILD -- FROM THE EDITORS OF THE CLASSIC "BIBLE OF WOMEN'S HEALTH" Pregnancy and birth are as ordinary...
Continue Learning about Health & Pregnancy
One common myth is that when you are pregnant, you should be eating for two people. The truth is that you should be eating a healthy amount of fruit, vegetables, and meat high is omega-3s. If you up your caloric intake by 300 a da...
y, you will be eating plenty of food for both you and your baby. Along with taking prenatal vitamins, you should also continue you exercise and remain active during your pregnancy. Consult with your doctor for pregnancy approved exercising.
More