It's easy to dismiss mental issues as being "all in your mind," but what occurs between your ears powerfully influences what's going on in your belly and in your baby after he is born. A mom's anxiety and depression during pregnancy are associated with pre-term delivery, lower birth weight, and admission of her baby to a special care nursery.

Because hormones and other chemicals do cross that placenta barrier, it can be said that a melancholy mom may lead to a melancholy baby. Babies exposed to a mom's anxiety and depression after birth score lower on developmental scales, have more sleeping and feeding problems, and have less interaction with mom. Some babies are very resilient and won't be affected much by stress, but it's best to assume that your stress could negatively affect your baby.

Stress and depression during pregnancy can also interfere with your ability to bond with your baby. If untreated, anxiety and depression develop a life of their own and linger postpartum, making it even harder to cope with your newborn. There's no "toughing it out" until the end, knowing that the reward will be worth the misery. The misery will just go on.

On the positive side, human beings are remarkably adaptable, so putting a baby in a healthy, low stress, non-depressed family postpartum can reverse some of the problems that might have resulted from a stressful pregnancy. So that means that if you are anxious or depressed during pregnancy and get treated, you can reverse any damage that might have been done.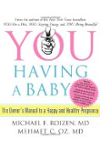 Continue Learning about Health & Pregnancy
One common myth is that when you are pregnant, you should be eating for two people. The truth is that you should be eating a healthy amount of fruit, vegetables, and meat high is omega-3s. If you up your caloric intake by 300 a da...
y, you will be eating plenty of food for both you and your baby. Along with taking prenatal vitamins, you should also continue you exercise and remain active during your pregnancy. Consult with your doctor for pregnancy approved exercising.
More