The Patient's Bill of Rights has been around almost as long as the original Bill of Rights (just kidding -- it was created in the 1990s), but it recently got a major makeover with the Affordable Care Act of 2010. On the most basic level, the Patient's Bill of Rights protects the healthcare consumer by stating what services should be offered and available to you and by requiring fair, ethical treatment. It also gives you more choices (in fancy medical ethics terms this means you have autonomy to make your decisions). The Patient's Bill of Rights gives you, the consumer, more control over your healthcare. It keeps health insurance companies from limiting your care and getting between you and your healthcare providers. Some highlights are:
Health insurers can't refuse to cover a pre-existing condition in
your child.
Health insurers can't take away your coverage if you get sick.
Health insurers can't set a lifetime limit on your coverage.
Health insurers can't restrict their annual limit on your coverage.
You can choose any primary care doctor or pediatrician you want
from your plan's provider network.
Women can see an obstetrician or gynecologist in their network
without needing a referral.
You don't need approval from your insurer to get emergency care
at a hospital that's not in the insurer's network.
The Patient's Bill of Rights was created by the American Hospital Association in 1973 and revised in 1992. More importantly, the Joint Commission enforces this bill of patient rights in health care organizations. Other health care associations have chimed in with their own lists in the years since, as have many individual hospitals.

The gist is pretty straightforward: you are guaranteed speedy care, full disclosure of costs, confidentiality, and a bevy of other civilized basic rights, many of which you also enjoy when buying a new muffler for your car. If you wouldn't be intimidated to ask about your warranty on the muffler, then you shouldn't be embarrassed about asking about the warranty on your knee replacement or your new heart valve. It's often up to you to take advantage of these rights.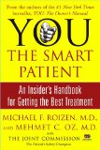 Continue Learning about Health Insurance