You may be able to get the health insurer to change their decision without launching a formal appeal. But if those efforts don't work, follow this strategy when it's time to get serious.
Follow all the rules—thoroughly. Ask the insurer and your human resources department at work to send you the complete rules for filing an appeal, and follow those rules to the "T." The insurance company is hoping you'll flub something or send in incomplete paperwork so they can toss your appeal without any sweat. Do you need to get a second opinion? Which bills, test results, or other paperwork do you need to include in your appeal application? Be exacting. Don't let the health insurer bounce your appeal on a technicality. Be especially vigilant about deadlines.
Get some outside info. For advice to help you craft your appeal, see the Web site at http://www.patientsarepowerful.org. If you're appealing a Medicare denial, tap the knowledge from the Medicare Rights Center at http://www.medicarerights.org or (888) 466-9050.
Bombard them with facts. You won't get anywhere with passionate pleas. You need lab data, national trend info, physician letters, and other hard records to show the insurer why it has no basis to deny your claim. Ask your doctor to send a letter saying why you need the treatment; it'll pack more punch coming from him or her.
Seek the MD. Your goal is to get your case to the insurer's medical director or staff doctor. A doctor will usually look at your situation with more sympathetic eyes and give more clout to good patient care versus following the standard policies. Keep pushing until you get that physician involved.
Use smart timing. When you get to that doctor, you want to speak to him or her on a Monday morning or a Friday afternoon, when this person is likely in the best mood.You can't reach the doctor? Unacceptable! Tell the insurer that you're going to bring the matter to the state department of insurance or the attorney general. Don't use this threat too soon; it'll cost you goodwill (which still influences some folks on this good earth, believe it or not), so save it as a last resort.
Rat 'em out. No satisfaction, even after the plan's doctor gets involved? If you're not ready to say uncle yet, take your appeal to the state department of insurance. I'm pulling for you.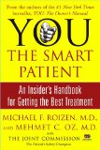 Continue Learning about Health Insurance