The original Patient's Bill of Rights from the 1990s states that:
All patients should be guaranteed the following freedoms or rights:
To seek consultation with the physician(s) of their choice
To contract with their physician(s) on mutually agreeable terms
To be treated confidentially, with access to their records limited to those involved in their care or designated by the patient
To use their own resources to purchase the care of their choice
To refuse medical treatment even if it is recommended by their physician(s)
To be informed about their medical condition, the risks and benefits of treatment and appropriate alternatives
To refuse third-party interference in their medical care, and to be confident that their actions in seeking or declining medical care will not result in third-party-imposed penalties for patients or physicians
To receive full disclosure of their insurance plan in plain language, including:
CONTRACTS: A copy of the contract between the physician and healthcare plan, and between the patient or employer and the plan;
INCENTIVES: Whether participating physicians are offered financial incentives to reduce treatment or ration care;
COST: The full cost of the plan, including copayments, coinsurance, and deductibles;
COVERAGE: Benefits covered and excluded, including availability and location of 24-hour emergency care;
QUALIFICATIONS: A roster and qualifications of participating physicians;
APPROVAL PROCEDURES: Authorization procedures for services, whether doctors need approval of a committee or any other individual, and who decides what is medically necessary;
REFERRALS: Procedures for consulting a specialist, and who must authorize the referral;
APPEALS: Grievance procedures for claim or treatment denials;
GAG RULE: Whether physicians are subject to a gag rule, preventing criticism of the plan.
In March 2010, with the passing of the Affordable Care Act, the Patient's Bill of Rights was modified to also include the following rights:
To have your child's pre-existing condition covered.
To keep your health insurance coverage if you get sick.
To no lifetime limits on your coverage.
To no annual limit on your coverage.
To choose any primary care doctor or pediatrician you want from your plan's provider network.
To see an obstetrician or gynecologist (OB/GYN) in your network without needing a referral.
To get emergency care at a hospital that's not in the insurer's network without advance approval.
Here are some of the fundamental rights you enjoy as a patient in the U.S.:
As a patient, you have the right to considerate, respectful care.
You have the right to obtain current, understandable, relevant information about your diagnosis, treatment, and prognosis from your health care providers. (I suggest that you seek out info on your own, if you want to add "objective" and "complete" to the adjectives above.)
If you speak another language, have a disability, or don't understand something, you have the right to have it explained to you so you do understand it.
You have the right to immediate emergency screening and stabilization when you're in severe pain or have been injured. (Of course, "immediate" can be hours if the ER is backed up with more pressing cases than yours.)
Except in emergencies when you must be treated right away, you have the right to discuss your treatment options, the benefits and risks involved, the length of recuperation, and medical alternatives before making a decision about your care.
You have the right to know the identity of the people involved in caring for you as well as their experience—such as if they're new residents or students.
You have the right to know the estimated costs of all treatments. (You also have the right to be given a cold compress after fainting upon learning the estimated costs.)
You have the right to make decisions about the care you'll receive and to refuse certain treatments to the extent permitted by law.
You have the right to expect that your medical information will be kept confidential, except in cases where reporting it is required by law.
You have the right to have an advance directive such as a living will, durable power of attorney for health care, or health care proxy.
You have the right to review your medical records and have the information in them explained to you.
In a hospital, you have the right to receive medical care within a reasonable time. ("Reasonable" can be much longer than "immediate," and "immediate" is subject to the interpretation explained in a previous right.)
You have the right to agree or refuse to participate in research studies and to have them fully explained to you before you participate.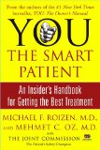 Continue Learning about Health Insurance