There's really only one big downside to the Health Insurance Portability and Accountability Act (HIPAA) – it makes it quite difficult for a doctor to share medical info with another doctor or a family member – even in an emergency. It's like trying to have a conversation with your teenager, but worse! Most patients I know want their doctors and specialists to work together smoothly without hitting any speed bumps, particularly during an emergency.
Also, if you switch doctors for some reason, it can be a hassle trying to get information from one physician to another -- your doc ain't allowed to share anything without specific written permission -- a real pain for both docs.
Finally, do you remember those odd, out-of-the-blue letters back in the spring and summer of 2003 from your doctor? That's because HIPAA requires a lot of paperwork and physicians had to send a letter to every single patient, asking them to sign consent forms. But even if it requires more paperwork and a little forward thinking to make sure you don't get wrapped up in red tape when you're already covered in bandages, HIPAA is a really great thing.
Like every seemingly necessary law, such as the ones about paying income tax and not "borrowing" other people's cars, the Health Insurance Portability and Accountability Act (HIPAA) brings some inconveniences along with all of the good it does.

Chiefly, it makes it difficult for your doctor and other parties to share or access your medical information, and it requires you to give your consent for this even in emergencies. That's mostly a good thing, but most smart patients want their doctors and specialists working together as easily as possible, especially in an emergency. Making sure your doctor can share your info with another physician on a moment's notice can be a much more important concern—it could save your life—than worrying about broken confidentiality. A smart patient works best when all of the team members are in sync and have the same info at their fingertips.

We'd recommend signing a form now that allows your doctor to share your medical info with other specialists in emergencies when you're not able to speak quickly. Giving your doctor permission to share your information is an important move; you don't want to get wrapped up in red tape when you're already covered in bandages.

Also, you can avoid a lot of hassles in trying to get information from one physician to another by making sure you have all of the info in your hands first. That way, you can personally give it to the new doctor or a lab without bugging an intermediary who's constrained by privacy laws (such as your primary physician or the original lab).

To make this easier, every time you go to the doctor or see a specialist or get a test done, ask for a copy of your record from that day's visit right then and there. It'll cut down on later phone calls and faxes and aggravation trying to dig up the data after the fact. So before you leave, always get a receipt of what you had done that day. And just like a fast food restaurant, remind them that all services are free if you don't get a receipt. (Don't push for the smile, though.)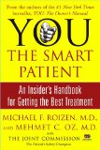 Continue Learning about Health Insurance