Not as of yet! Scientists have not identified a lack-of-insurance virus or bacteria and we're pretty positive they won't. Regardless of whether you have insurance, people get sick. What we can say, though, is that people who have health insurance are more likely to get the routine healthcare that keeps them from getting sick or from getting as sick since it's easier to catch it early on.
Lacking health insurance doesn't just mean that you're at risk of getting your home taken or your salary garnished for the rest of your life if you get into an accident. Being uninsured can actually make you unhealthy.

In fact, being uninsured endangers your life more than having diabetes; about 18,000 Americans aged 25 to 64 die every year as a result of being uninsured, slightly more than the number killed by diabetes.

How? One reason is that people who don't have health insurance receive almost no preventive care, so they're more likely to become ill. They often let a health problem progress much farther without treatment compared to people who have health insurance, too. Uninsured people are 50% more likely to be hospitalized for an avoidable problem than those who have health insurance.

So if you know someone who's ducking out of paying for health insurance to save money, let them know that they're really using that extra cash to buy the equivalent of a life-threatening illness.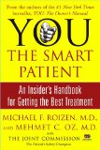 Continue Learning about Health Insurance