Since the U.S. medical system is so expensive, there are many barriers to receiving the best possible care. In addition, the tremendous imbalance of power between the health care consumers and providers creates an institutionalized discrimination for people in less powerful sectors of the population. Making health care decisions can be especially difficult for women who are treated as second-class citizens by medical institutions. This group includes women as a whole, low-income women and uninsured women (who may find that very few choices of providers or treatments are available to them), women of color and older women (whose concerns may be dismissed as &quotunimportant" or &quotwhining"), and women with disabilities (who may face mobility or communication issues). It also includes lesbian, bisexual, and transgender people and immigrant women, especially those who are not fluent in English. Ultimately, changing current practices will require significant changes in public policy. In the meantime, being aware of how the medical system reflects society as a whole can help you deal with this system and improve the way in which you are treated.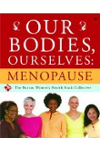 More About this Book
Our Bodies, Ourselves: Menopause
FROM THE EDITORS OF THE CLASSIC "BIBLE OF WOMEN'S HEALTH," A TRUSTWORTHY, UP-TO-DATE GUIDE TO HELP EVERY WOMAN NAVIGATE THE MENOPAUSE TRANSITION For decades, millions of women have relied on Our...
Continue Learning about Health Care Issues