If pediatricians prescribed only drugs approved for kids, we'd have a lot of sick kids. So it's extremely common for doctors to prescribe medications off-label for children. In fact, around 80 percent of medicine used for kids is prescribed off-label.
In some cases, there is good data showing that a particular drug is safe and effective in children, but the pharmaceutical company only applied for FDA approval to use the drug in adults -- because each separate approval (adults and kids) is a long, costly process. For example, you probably remember hearing about Prozac being approved for treating kids with depression. Actually, doctors had been prescribing it to children off-label for years. The drug company just had not applied to the FDA for approval for kids until then.
Albuterol, used for asthma, is another good example. Even though it's only approved for kids over two, docs regularly prescribe albuterol for children younger than that if it is needed. Not treating asthma is a poor alternative. And albuterol has been used for so long with so much success that it's now generally considered safe.
From The Smart Parent's Guide: Getting Your Kids Through Checkups, Illnesses, and Accidents by Jennifer Trachtenberg.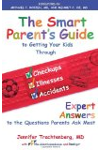 Continue Learning about Healthcare Basics