After your child checks in, you'll be introduced to several hospital staffers who will complement the efforts of your pediatrician, surgeon, and/or specialist. You'll wonder what they do and why most of them are wearing clogs. (They hose off easily.) Below are some of the players you're likely to encounter:
Interns: Say hello to the newest of the new doctors, young physicians right out of medical school and in their first year of training. Under supervision, they can assist in operations and provide hands-on care to patients. Interns are also called first year residents.
Residents: These doctors have completed their internships, but they are still in training for their specialty (dermatology, pediatrics, etc.). Residencies can run from two to seven years, depending on the specialty, and residents are ranked by seniority: Junior residents are the newest; senior residents get to boss the junior residents around.
Fellows: They act as the attending physician's right-hand doc. Fellows have already completed an internship and residency in a specialty, such as pediatrics, but are doing more training to specialize even further, such as becoming a pediatric cardiologist. Fellows report a patient's progress and issues to the attending physician and are usually available to the staff 24/7. Fellows are great sources of information about what's going on with your child.
Attending physician: Your child's attending physician is the one in charge, the doctor who makes the decisions about your child's care, even though other staff docs will participate in it. "The attending" is the decider. The attending may be your pediatrician if he or she has privileges at that hospital.
From The Smart Parent's Guide: Getting Your Kids Through Checkups, Illnesses, and Accidents by Jennifer Trachtenberg.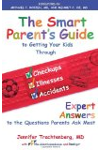 Continue Learning about Healthcare Basics