Generic drugs have the same formulations and standards as brand name drugs, just without the fancy packaging. In this video, pharmacist Suzy Cohen, RPh, explains how generic drugs are just as effective - and less expensive - than brand name drugs.
Ask your doctor if generic drugs may be used to fill your prescription. Generics are less expensive than brand-name drugs. Ask if the generic drug differs from the brand-name drug in terms of efficacy.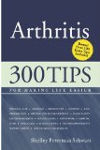 More About this Book
Arthritis
Arthritis: 300 Tips for Making Life Easier is a compendium of tips, techniques, and life-task shortcuts all learned from personal experience. Author Shelley Peterman Schwarz has lived with a chronic...
Continue Learning about Healthcare Basics