If there's a pharmacist who specializes in children's medications, he will be able to formulate meds into suspensions (liquid forms of medicines that normally come in pills) and add extra flavoring to make the meds taste better. Some pharmacies even offer a choice of flavors -- almost like ice cream. Trust me, flavored meds are miraculous for fussy kids who won't take plain medicine!
Make good use of the pharmacy's "consultation" window, which gives you a little privacy and some one-on-one time with the pharmacist. You can also call and ask to speak to the pharmacist if you want to double-check whether, for example, combining Tylenol (acetaminophen) with Benadryl (diphenhydramine) is okay for your child. If you do call, make sure the pharmacist pulls up your child's prescription record and checks any other meds your child might be taking. Don't forget to mention vitamins and herbals, too. And please don't ever feel like you're wasting the pharmacist's time by asking good questions and double-checking medications. Pharmacists, like docs, are busy people, but it's their job to be there for you and to answer questions. You can also ask the pharmacist to print out extra information if you have any concerns. Pharmacists have access to a lot of medication details.
When you pick up a prescription, compare the pill or liquid to the patient information leaflet stapled to the pharmacy bag—often, it will have a small picture of the pill or medicine. Make sure they match. If not, ask the pharmacist or technician to reconfirm the order. It's possible that your doctor ordered a generic medication that looks different, but ask anyway.
From The Smart Parent's Guide: Getting Your Kids Through Checkups, Illnesses, and Accidents by Jennifer Trachtenberg.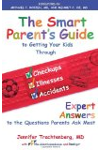 Continue Learning about Healthcare Basics