It is vital to make a list of questions with you when considering which doctor to choose as your surgeon. A checklist with important criteria may include board certification, medical school training, hospital affiliations, years in practice, malpractice records, and society associations. Look at hundreds if not thousands of before and after pictures if available. Determine how many of the specific surgery you will be having the surgeon has performed in his or her practice and how many per year.
It's worth it to take the time to assess upfront whether or not you feel you have the right doctor or surgeon for you. The ideal doctor is the perfect balance of competence and compassion. He or she meets both your necessities (skills and experience) and niceties (easy-going, openness.) Keep in mind no one is perfect and you may have to make some compromises. Ask yourself the following questions to decide how well you like a doctor or surgeon after your first visit or discussion with this person. Seeing a doctor or surgeon for the first time can be like going on a blind date. You want to find someone you can have a trusted relationship with.
How well did the doctor explain my diagnosis in words that I could easily understand?
How well did the doctor listen to me?
How well did the doctor react to my questions?
What did the doctor's body language tell me about his interest and involvement in my care?
How comfortable do I feel about working with this doctor?
How willing is this doctor to be available after regular office hours?
Did the doctor spend enough time with me?
Did this doctor have a problem-solving approach to my treatment that included my family?
What is my impression of the office staff?
Was this doctor willing to let me tape record our conversation?
How well did this doctor try to educate me about my condition or disease?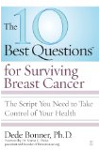 Continue Learning about Healthcare Basics