One big advantage of children's hospitals is that they are totally tuned into young patients. That's all they do and see, and so their approach is through the eyes of a child. The physicians, surgeons, anesthesiologists, residents, pharmacists, and nurses are specially trained and deeply knowledgeable about childhood illnesses, proper doses for little ones, pediatricsized equipment, and treating young bodies. The staff also understands the emotional issues that young patients and their families go through and knows ways to minimize the anxiety. Many children's hospitals see children with rare illnesses into adulthood, allowing for steady, continuous care.
Children's hospitals often serve as the pediatric training ground for medical schools, so you and your child benefit not only from the hospital's highly trained clinicians and instructors but also from the many medical students and residents. Even though they're still learning their craft, young docs are also up on the latest research, education, and technology. They're closely supervised by pediatric fellows and attending specialists, so you don't have to worry about anyone flying solo. Personally, I like the idea of young, eager, brainiac students trying to outdo themselves to impress their teachers (your child's doctors) and you and your child (the patient).
The kid focus at pediatric hospitals is usually reflected in the atmosphere. Many pride themselves on having a whimsical, cheery décor. You might see aquariums, skylights, toys, games, computers—all designed to be a distraction from the rigors of being hospitalized. Actually, all hospitals try to make their pediatric wings fun and kid friendly, but in children's hospitals, the whole place is like that.
However, here's what's most important: Studies show that even "routine" procedures at children's hospitals are generally safer and have fewer complications and lower mortality rates than those done on kids in adult hospital settings.
From The Smart Parent's Guide: Getting Your Kids Through Checkups, Illnesses, and Accidents by Jennifer Trachtenberg.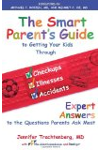 Continue Learning about Healthcare Basics