Health Privacy Project
www.healthprivacy.org
This website, part of a nonprofit group, helps raise public awareness about health privacy; contains information about how to keep your medical records private.

Office for Civil Rights—HIPAA
www.hhs.gov/ocr/hipaa
This is the website for the federal Office for Civil Rights, which is responsible for receiving and investigating claims of HIPAA violations; includes information about your rights under the law and ways to keep your medical records private.

Patient Advocate Foundation
www.patientadvocate.org
This website is sponsored by the Patient Advocate Foundation, a nonprofit group that works to help patients resolve insurance, job retention and debt problems that result from health problems.

Rand Corporation
www.rand.org
This 50-year-old research organization conducts surveys and studies on many health issues, often at the policy level, but you can find good info on topics such as HIV, mental health, and insurance.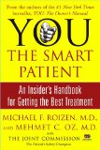 Continue Learning about Healthcare Basics