To help protect your baby, toddler, or child from medication mishaps:
Remember to "shake well before using." When a liquid med says this, do it. Many, many parents don't shake well, if at all -- and that may mean your child gets either a too-weak dose (because the powerful stuff has settled to the bottom) or a too-strong one (because the potent ingredients have risen to the top). Either way, not good. Not to mention a big waste of time and money.
Check the expiration date. You know most drugs only last a year, right? Sometimes even less. That's why they're stamped with expiration dates. In some cases, drugs actually become more potent if they are used past the safe date, but more often they lose their effectiveness. Regardless, if the date is up, toss 'em. Take five minutes right now to go through any old containers of pills, check expiration dates, and purge the old stuff.
Don't share prescription medications with your kids, relatives, or friends. Yes, we should all learn to share. But when it comes to pharmaceuticals, selfish is in. Never give your child another person's medicine. I know how expensive drugs are, but this practice can be fatal. Your children may have different symptoms or react to the med. Certainly, few children weigh exactly the same amount, which is what the dose for the prescription will be based on. Big problems can result. It's much less hassle to make another trip to the doctor's office than to the emergency department. And much cheaper. And much safer.
From The Smart Parent's Guide: Getting Your Kids Through Checkups, Illnesses, and Accidents by Jennifer Trachtenberg.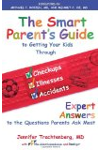 Continue Learning about Healthcare Basics