The following suggestions can help you to organize your medications:
Prepackage your daily medications. Keep track of daily medications by lining up all your pill bottles on the counter, labeling self-sealing plastic sandwich bags with the days of the week and then packaging your daily medications in the appropriate bag.
Separate your daily medication dose in the bottle. To help you remember if you have taken your medication, try this: From each bottle, remove the cotton and take out the number of pills you'll need for the day. Then replace the cotton and set the selected pills on top of the cotton. Replace the cap. Pills will stay in their original container, and you can tell at a glance whether you have taken your daily dose.
Use a seven-day pill organizer to keep track of medications. If you take several prescriptions, some every day, some every other day, some in the morning and some at bedtime, the seven-day pill organizer may be helpful in reminding you when to take each medication. The organizer has seven daily cases, each with four separate compartments for morning, noon, evening and bedtime medications. All seven cases fit into a tray, and each daily container snaps out to carry in your pocket.
The Talking Rx reminds you of prescription use and dosage. This device allows you, your pharmacist or a family member to easily record a spoken message with instructions on how and when to take the medication. To hear the dosage instructions, you simply press the red button on the lid. Talking Rx is also helpful for those who have difficulty reading the tiny print on medicine bottles or understanding English print.
Have a pharmacist or visiting nurse divide up your pills if you have difficulty remembering your daily medication dose.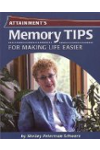 More About this Book
Memory Tips Making Life Easier
Written by memory and aging expert Shelley Peterman Schwarz, Memory Tips for Making Life Easier delivers just what its title promises. Written for health care professionals, family caregivers, and...
Continue Learning about Healthcare Basics