There isn't a cut and dried answer to this question, because hospitals' accreditation status can shift up or down over time. Find out if your prospective hospital has a history with conditional accreditations (which require them to make improvements within forty-five days of the inspector's critique) or, even worse, have received a "preliminary denial of accreditation."
The Joint Commission, the top U.S. organization for hospital accreditation, sends its inspectors out for on-site hospital inspections at least every three years. If you drill down on The Joint Commission's Web site, you can find information on standardized performance measures for surgical care. When checking out a specific hospital, look to see how well this hospital has performed specifically for surgical care. This information is not specific for breast cancer surgeries, and not all hospitals report their surgical data (although most do).
Another reliable source of information is HealthGrades, Inc. They offer comprehensive reports on hospital ratings, costs, patient volume, and patient safety for a fee. Their Web site also offers free restaurant-style hospital ratings (one to five stars).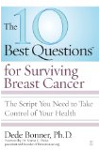 Continue Learning about Healthcare Basics