One of the biggest misconceptions among parents is that over-the-counter meds are safer than prescription meds. They're not. They can be as dangerous. Just one overdose of acetaminophen can be poisonous to the liver, kidneys, and brain, even causing irreversible damage and death -- and it's all too easy to give a fussing baby an overdose. Also, docs have known for some time that commonly used cold and cough medications may not be that effective in reducing symptoms in young children and can cause serious complications. Children under two are most vulnerable. Cough and cold meds can cause their hearts to beat too fast and provoke irritability, sleeplessness, and strange behavior -- without ever making their noses less runny! I've been telling parents for years about the downside to these medications. They're best avoided.

It's smart to ask your pediatrician and pharmacist for advice on over-the-counter medications. A little Q & A can save you hours of regret and cash. When you inspect the labels, you'll find that most products for a similar condition contain the same active ingredients in the same amounts. Don't forget to double check with your pediatrician/pharmacist what the correct dose is based on your child's weight in kilograms. Then make sure you're giving your child exactly that dosage, no more or less.

From The Smart Parent's Guide: Getting Your Kids Through Checkups, Illnesses, and Accidents by Jennifer Trachtenberg.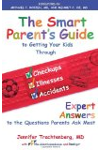 Continue Learning about Healthcare Basics