A board-certified doctor has passed exams in a certain specialty, so it's evidence of skill. The American Board of Medical Specialties recognizes 24 areas of medical specialty, including anesthesiology, cardiology, internal medicine, and pediatrics. Most of these subgroups will refer you to physicians on their list in your area.

Does that mean you can simply pick one of these names and be assured of having the best doctor? No. But you can be assured that these doctors have passed muster with somebody else besides Aunt Frieda. Personally, I wouldn't go to a doctor who wasn't board certified, and it's one of the first several things I'll investigate when finding a doctor or specialist for my family members. Moreover, I'd prefer a doctor who's been board-certified in a specialty for at least three years.

To find out if a doctor you're seeing or considering is board certified, call The American Board of Medical Specialties at (800) 776-CERT or visit certifieddoctor.org.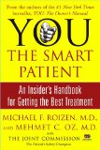 Continue Learning about Healthcare Basics