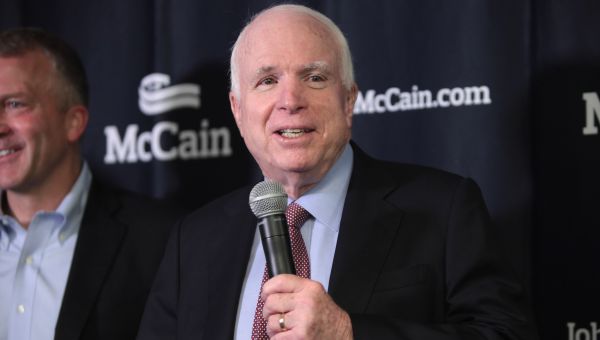 The ACA lives, thanks in part to an unexpected "no" vote. What does it mean for the future of healthcare?
The Affordable Care Act (ACA) remains the law of the land, for now. In a dramatic, 1:30 a.m. vote on July 28, three moderate Republicans—including John McCain of Arizona—sided with all 48 Senate Democrats and Independents to reject a last-ditch, pared-down proposal to repeal the ACA.
McCain was recently diagnosed with glioblastoma, an aggressive brain cancer, and returned to Washington, DC this week to vote on healthcare. His office released this statement early this morning:
From the beginning, I have believed that Obamacare should be repealed and replaced with a solution that increases competition, lowers costs, and improves care for the American people. The so-called 'skinny repeal' amendment the Senate voted on today would not accomplish those goals.
The bill, the details of which were shared shortly before the vote, would have kept many of the ACA's policies, but repealed its individual mandate requiring Americans to buy health insurance or pay a penalty for opting out. It would have also eliminated the employer insurance mandate for eight years, lifted some protections for existing health benefits required by the ACA and defunded Planned Parenthood for a year.
This "skinny" repeal was the last—and the smallest—of three healthcare bills brought forward by Senate Republicans this week. The previous two would have made more sweeping changes to existing healthcare law, and were forecasted by the Congressional Budget Office to remove health coverage for millions; they were voted down by larger margins. A House of Representatives bill to repeal the ACA, passed earlier this year, was never seriously considered by the Senate as a viable replacement for the law.
What this means for the ACA
For the time being, the ACA stays as-is, its fundamental policies unaltered. However, its support from the current government is in doubt. President Trump, who has long wanted a repeal, has been vague about his intentions for providing key funding to states. Hours after the Senate vote, he tweeted to express his disapproval of the results: "3 Republicans and 48 Democrats let the American people down. As I said from the beginning, let Obamacare implode, then deal. Watch!"
In the meantime, with no repeal or additional proposals ready to go, Congress is expected to turn to other legislation, and revisit healthcare at a later date. Some representatives are urging a more bipartisan approach to revising the ACA, including Senator McCain.
"We must now return to the correct way of legislating and send the bill back to committee, hold hearings, receive input from both sides of the aisle, heed the recommendations from the nation's governors, and produce a bill that finally delivers affordable health care for the American people," he said in his statement. "We must do the hard work our citizens expect of us and deserve."
Photo courtesy of Gage Skidmore.
Medically reviewed in November 2018.