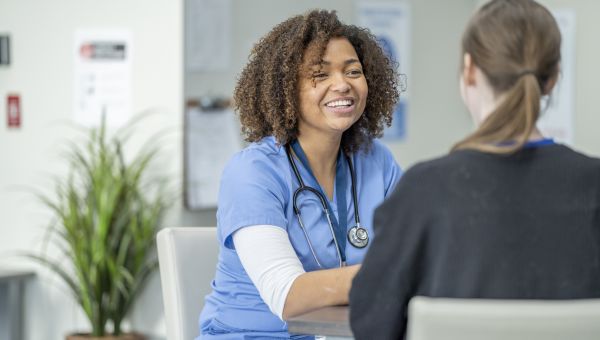 As the head nurse at a level 2 trauma center, I listen and communicate with empathy to help my patients to survive, heal and go home healthier. But I'm equally devoted to helping people stay well and keep themselves out of the hospital. Here are three of my top tips for taking charge of your health. These tips aren't the typical how-to-tips; rather, they help empower you by getting you involved in a technological and social world.
Ready to find a physician near you? Click here.
1. Get involved. You are the most important member of your healthcare team. You are the biggest stakeholder in your healthcare, and you have the choice to live a healthier life. Become a proactive and empowered healthcare consumer, and become engaged in your healthcare. Partner with your healthcare providers and be part of the decision-making process. Remember to speak up and ask questions.
2. Get tech savvy. Technology can help move your health forward for a healthier you. Health apps continue to soar and mobile technology is transforming healthcare. Imagine having a conversation with your doctor or other healthcare provider that goes beyond what medications to take. Instead it involves communication about technology.
Picture you and your doctor or other healthcare provider communicating via text or email. Wouldn't it be fantastic to get text messages with reminders or motivational messages? What if your clinician suggested health apps that are right for you? Or picture your health information captured in electronic health records that could be available to all your doctors and healthcare providers no matter where you are.
Gaming is huge and it can help you achieve your health and wellness goals. What if your healthcare provider suggested you played Kinect or offered other suggestions for gaming for better health?
The conversation between you and your doctor or other healthcare provider needs to change. Technology needs to be part of the conversation. Help drive innovation.
3. Get social. Sure, hanging out with your friends face-to-face is always a great way to interact, but I'm talking about getting social in the social networking space with health experts who can inspire you, lead you to action and offer trustworthy health information.
There are many health experts engaging in social media networking to help provide you with valuable information. I've been involved in a few of Sharecare's awesome Twitter chats—powerful real-time question-and-answer sessions—and I must say that two hours tweeting health information, engaging and interacting with the Twitter audience on topics like sleep and heart health is very cool. I even participated in a chat on genetics, "Shake your family health tree."
Twitter is one powerful platform that offers the opportunity for nurses, doctors and other healthcare providers to help educate consumers. We are privileged to listen to the community, engage with consumers, collaborate and hopefully inspire people to live a healthier life.
Are you an engaged and empowered consumer?
Medically reviewed in January 2020.