Women have different thresholds for getting a headache. If you have a low headache threshold, you're very likely to get headaches; if you have a high threshold, you're less likely to get them. Understanding the concept of an individual headache threshold helps explain why some people are bothered by more troublesome headaches than others.

Let's use nitroglycerin as an example. Nitroglycerin is a very potent blood vessel dilating medication and a potent headache trigger. Taking it will produce headaches in almost everyone -- including people who rarely get them -- but people who are headache-prone will develop one at a much lower dose. Less potent triggers, such as eating certain foods, skipping a meal, sleeping late, having your menstrual period, or having a stressful day, can also provoke a headache in susceptible people. Therefore, people with a low headache threshold may get a headache after a stressful day or drinking one glass of red wine, but those with a high headache threshold won't.

People with a high headache threshold may find that they need to have a combination of several triggers occurring together before they get a headache. For this reason, you may find that you sometimes get a headache when you drink red wine, but only if you also are having your menstrual period and had a stressful day at work. Changes in your body may change your headache threshold on a day-to-day basis, so you may find that some days you have a lower threshold and are more prone to developing a headache after experiencing headache triggers than on other days when your threshold is higher.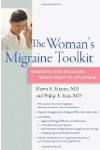 Continue Learning about Headache