What are wellness programs for headache sufferers?
If you frequently suffer from headaches, your doctor can help determine if overuse of prescription or over-the-counter medications is to blame.

The regular use of pain relievers can bring on the types of headaches that are becoming increasingly common. Other health conditions can trigger chronic headaches. A wellness program may include methods of diminishing stress and certain foods that could be responsible for your headaches.

Wellness programs can help pinpoint the precise cause, including medications, environmental issues, lack of sleep or excessive stimuli (noises, lights and odors) that could be contributing to the headaches at work or home.

Medications that can cause headaches include those for treating heart disease, asthma, high blood pressure and acid reflux. Pain medication, birth control pills and drugs used in hormone replacement therapy can also trigger recurrent headaches.

Wellness programs, often sponsored by health clinics or hospitals, aim to teach headache sufferers healthy living habits. Instruction includes topics such as diet, nutrition, and exercise. Participants are encouraged to stop smoking and to sleep for approximately 7 to 8 hours each night.
Programs encourage participants to identify headache triggers, for example, menstruation, prolonged overexertion, environmental changes, and excessive stimuli -- glare, noise, odors, and lights. Participants are encouraged to eliminate, when possible, other triggers: alcohol, fatty foods, and foods containing monosodium glutamate (MSG) and nitrites (hot dogs and other prepared meat).
Wellness programs educate headache sufferers as to which medications cause headaches and should be avoided. Some of the medications to be avoided include the following:
nitrates, or nitroglycerin, used to treat coronary artery disease
theophylline derivatives, used to treat asthma
reserpine, used to treat high blood pressure
nifedipine, a calcium channel blocker used to treat high blood pressure
indomethacin, which is prescribed as a pain medication
cimetadine, used to relieve acid indigestion
birth control pills (oral contraceptives)
drugs used in hormone replacement therapy
Continue Learning about Headache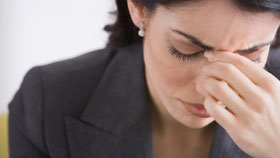 Throbbing, pulsating and pain in the head are all symptoms of a headache. Varieties of headaches such as migraines, tension headaches, sinus headaches and menstrual headaches can halt your daily activities. But, you can learn what ...
to watch for, and what to do, so you'll be ready to stop a headache before it stops you.
More