Before seeing your doctor about your headaches, maintaining a headache diary and paying attention to your unique headache patterns can provide good information for you to take to your doctor.
The following are tips for improving your visits to your headache doctor:
Prepare for every visit with your healthcare provider. Write down and
bring a list of concerns—prioritize those key concerns that are
most important for you.
Ask specific questions that are of most concern to you right now and
save less-urgent questions for a later visit.
Use direct and specific questions, such as how long should I wait to take
the next acute medication.
Restate what you hear your doctor saying to make sure you
understand. For example, "so, let me get this straight—you think
that my headaches are migraines without aura and you want me to
take this medication Topamax every night to reduce headache
frequency—right?"
Speak up about any concerns that you have about your diagnosis,
treatment, or other symptoms.
Keep your doctor informed about hormonal links with your headache,
your current method of contraception, plans for conceiving,
concerns about pregnancy, and changes with menopause.
Do your homework. There are many excellent books and websites
about headaches. Knowledge is power!
Preparing for your visit in advance is the best way to make sure that your healthcare provider will have what she needs to best determine what's causing your headaches and what treatments are most likely to be helpful.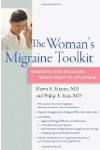 Continue Learning about Headache