The following are exercises women can do during a headache episode. Apply heat or ice (whichever you find more soothing) for 20 minutes to your neck and shoulders. Then do the stretching exercises that you normally find the most soothing.

• Oscillatory movements. Make small, rhythmic, side-to-side head movements. While facing forward, turn your head slightly to one side and then back to forward. Repeat, going slowly back and forth at a rate of about once per second, for about 30 seconds. Rest for 30 seconds; then repeat until no further relief is noted. Then switch to turning the head toward the other side and proceed as above.

• Positional distraction. Place books on the floor in a 1- to 2-inch stack. Lie down on the floor, with the back of your head resting on the books. The edge of the books should be near the middle of your head, so your neck is free. Relax so that your head moves up from your neck. Avoid exercises (such as this one) that require you to lie on your back after the first trimester of pregnancy, because this position can put excess pressure on your blood vessels and reduce the blood flow going to your baby.

• Trigger-Point Compression. During a headache, you may notice certain spots on your muscles that aggravate your head pain when you press them. These are called trigger points. When you identify your trigger points, apply pressure to them with your fingers and hold for 15-60 seconds. Release the pressure and proceed with your usual stretching exercises. If these spots are hard to reach, try lying on a tennis ball placed under the trigger point, or use a Thera Cane -- a curved cane with knobs placed to help you get to hard-to-reach trigger points.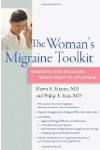 Continue Learning about Headache