If your headaches have worsened with the use of birth control pills, you might discuss these strategies with your doctor:
Reduce the estrogen dose of the active pills. If the everyday
estrogen dose is lower, your body experiences less of a
change from the highest level of estrogen that occurs during
the weeks when you're taking active pills to the lowest
estrogen level during the placebo week.
Supplement with additional low-dose estrogen during the placebo
week. Studies show benefit from adding 0.9 mg estrogen on
each day of the placebo week.
Reduce the duration of the placebo week, including eliminating the
placebo week from most cycles. You might discard the
placebo week pills from your oral contraceptives for 2 or 3
consecutive months and start your next pack with active pills
when you would normally have been using the placebo pills
from the previous pack. This will result in missing one or two
periods before cycling back to the placebo week and having a
regular cycle.
Be sure to talk to your healthcare provider before trying any of these options. If you have developed a marked worsening of headaches, an increase in aura symptoms, or a new aura after starting birth control pills, you will need to use a different type of contraception.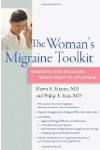 Continue Learning about Headache