Wellness programs, often sponsored by health clinics or hospitals, aim to teach headache sufferers healthy living habits. Instruction includes topics such as diet, nutrition and exercise. Participants are encouraged to stop smoking and to sleep for approximately 7 to 8 hours each night.
Programs encourage participants to identify headache triggers, for example, menstruation, prolonged overexertion, environmental changes and excessive stimuli—glare, noise, odors and lights. Participants are encouraged to eliminate, when possible, other triggers: alcohol, fatty foods and foods containing monosodium glutamate (MSG) and nitrites (hot dogs and other prepared meat).
Wellness programs educate headache sufferers as to which medications cause headaches and should be avoided. Some of the medications to be avoided include the following:
nitrates, or nitroglycerin, used to treat coronary artery disease
theophylline derivatives, used to treat asthma
reserpine, used to treat high blood pressure
nifedipine, a calcium channel blocker used to treat high blood pressure
indomethacin, which is prescribed as a pain medication
cimetadine, used to relieve acid indigestion
birth control pills (oral contraceptives)
drugs used in hormone replacement therapy
Knowledge is power. Research consistently shows that educating yourself and learning about your headaches helps you get them under better control. The more you know, the more you will feel in control of your headaches. In one study, migraine sufferers were given written information about headaches, including information about common headache triggers, healthy lifestyle recommendations, and instructions about how to learn relaxation techniques and stress management. After 8 weeks, headaches were substantially improved:
Headache frequency dropped by 37 percent.
Headache disability decreased by 71 percent.
Depression symptoms decreased by 29 percent.
Migraine sufferers' confidence that they could effectively manage their headaches improved by 22 percent.
Your healthcare provider can be an excellent resource for useful headache information, as well as answering questions about diagnosis and treatment options. There are also many reliable sources of information about headaches, including Internet sites and books written by headache experts.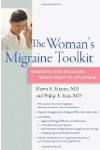 Continue Learning about Headache