If your child gets frequent headaches (more often than once a month) or headaches that wake her up at night, take her to see a doctor to pinpoint the cause of her headaches. Meanwhile, help her feel better when head pain hits by:
having her lie down in a cool, dark, quiet room
putting a cool moist cloth on her forehead
having her relax by breathing deeply; if she can fall asleep, a nap might help
giving her a pain reliever such as acetaminophen or ibuprofen, in a dosage that's right for her age and weight; never give a child aspirin, which can cause a serious, sometimes fatal, condition called Reye syndrome.
Try and figure out what is causing the headache. Is it a vision problem? Is it stress? Is it migraines? etc. Buy a day calendar from the dollar store and record the headaches for a few weeks. Write down how long they last, time of day, what your child was doing, what made the headache better or worse and any other symptoms that your child had. Bring this headache calendar to your pediatrician. They may be able to figure it out from this information, or they may refer you to a specialist. Until then, try ibuprofen, as long as there is no allergy, a dark, quiet room and a glass of water.
Your job as parent is not to get rid of your child's headache symptoms! Don't expect that you can make the pain go away. Pampering your child will not improve her headaches. Your job is to ensure that your child gets up, dressed, and to school every day unless she is vomiting.

Your other important job is to help reinforce and encourage normal childhood activities. Every youngster should have a good self-identity that does not center around being a patient or a headache sufferer. Your adolescent, for example, might see herself as a tenth grader, violinist, athlete, good student, scout, or avid shopper, rather than as a headache patient. The headache should not be a significant part of your adolescent's identity.

Parents play a critical role in the success of the treatment plan. You need to be a firm, but fair advocate for your child. You must help your child without enabling negative behaviors. Parents need to reinforce their children's treatment strategy, encourage school attendance, monitor compliance with medications and non-drug treatment recommendations, and educate school staff about the child's needs. Parents also must be vigilant to avoid overcommitment by the child, because participating in too many activities in addition to school may be detrimental. Finally, parents must work with healthcare providers and school personnel to identify stressors, depression symptoms, and peer concerns that may be negatively affecting their child.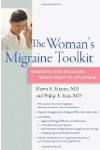 Continue Learning about Headache