Chances are, your child is going to spend some time (other than Halloween) looking like a unicorn—with a prominent bump on his head. Many times, that's okay; the goose-egg swelling is a sign of normal blood clotting beneath the skin at the site of the head injury.
Nevertheless, you'll need to keep a close eye on your child during the forty-eight hours after a head injury because it can take that much time for damaged veins to leak and cause swelling in the brain. You may also want to see a doc to rule out a skull fracture, because a fracture can tear underlying blood vessels and place a lot of pressure on the brain. Because the skull-encased brain has nowhere to expand when it gets inflamed, an untreated skull fracture can lead to decreased brain function.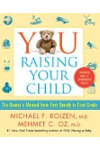 The first (and most important) thing to do when a child experiences a head injury, is to make sure they do not have signs of serious neck or spinal injury or brain bleed. Signs of neck injury include neck pain and numbness, tingling or weakness in the arms. If they cannot move an arm or leg or seem very weak, call 911 and don't allow them to move. Signs of brain bleed might include decreasing level of alertness, very severe headache, repetitive vomiting, extreme confusion or disorientation. If a child is hard to wake or unconscious after an injury, or if they don't seem alert enough to make eye contact and respond to you, call 911. Any kids with these signs of neck injury or brain bleed need to be seen by a healthcare professional as soon as possible, most likely in the emergency department of a hospital.
If the child does not show signs of neck or spinal injury or brain bleed, then they should be encouraged to rest and be observed by an adult to make sure they don't develop any of those signs. If you think your child may have a concussion, you should contact your primary care provider as soon as possible to discuss your child's symptoms.
Continue Learning about Head Injuries