Hands down, the head is the most important body part that your kids need to learn to protect. While most cuts, bruises and broken bones will heal, head injuries are often permanent and disabling. A blow to the head can lead to a loss of certain neurological functions and in serious cases, victims can lapse into a coma and die. Scary stuff.
You definitely want a helmet to take any hits instead of your child's head. Helmets are the only piece of equipment that can protect against these risks. The thick plastic foam (firm polystyrene) inside the helmet cushions the head from the blow.
Wearing one can reduce the risk of head injury by as much as 85 percent and the risk of brain injury by as much as 88 percent.
From Good Kids, Bad Habits: The RealAge Guide to Raising Healthy Children by Jennifer Trachtenberg.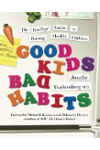 Continue Learning about Head Injuries