Research is beginning to show us these four roots create true happiness and health at a very key level of our existence. The four roots -- Serenity, Exercise, Love and Food (or S.E.L.F.) -- have an essential effect on our chemical processes of the body. For example, something as simple as taking a warm shower or going for a walk for a few minutes increases the production of serotonin in the body. This is also true for participating in a group of some kind, such as playing cards, joining a book club, or meeting with a friend. Similar serotonin increases occur when you eat carbohydrates during your busy day. The key to living a life of balance and experiencing true happiness is for you to begin to make informed choices about your lifestyle. When you choose to live an intentional life of true happiness, you will enjoy learning how nourishing these four roots can bring you a dynamic life of balance.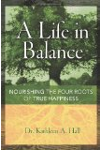 Psychologists say to feel happier, you must prime your body and mind for joy. Try these tips:
Find a rewarding activity:
Aim for a state of flow, when you lose track of time because you're in a state of satisfaction.
Appreciate small things:
Keep a daily log of positive things that happen in your day or a journal of the things for which you're thankful.
Stay mindful of the present:
Don't worry about the future. Approach problems as temporary, solvable situations. Build social networks: Bonds with friends and family maintain happiness. Even connections with strangers, such as holding doors and saying, "Thank you" can help.
Exercise:
Exercising reduces the body's level of stress hormone cortisol and increases positive endorphins.
Continue Learning about Happiness