Symptoms of fibrocystic breast changes differ from person to person. Some women may only experience pain before their periods, others may notice a constant discomfort that may occur throughout both breasts.
The most common complaints include: breast discomfort or tenderness, a dull or heavy pain, a dense or "lumpy" consistency, and nipple sensations, such as itching. These symptoms may get worse before your period starts and subside once your period ends. You might detect a lump that is tender to the touch or easily movable during a monthly breast exam. Over time the lump or lumps may get larger or smaller, and they may become less noticeable after menopause. Finding a lump can be alarming. Remember it could be a benign change, but you should immediately consult your doctor.
With fibrocystic breast changes, you will feel swelling, pain and lumpiness in both breasts, usually around the time of your menstrual period, because of fluid retention. Sometimes you may feel a sharp pain or burning sensation in the breasts. Most of the symptoms resolve after menopause with the decline in estrogen, unless you are taking hormone replacement therapy.
The primary contributing factor to fibrocystic breast changes is the normal hormonal variation during your menstrual cycle. As the body prepares to menstruate, hormones stimulate fluids to build up and form cysts, fluid-filled sacs in the breast that feel like small knots. These cysts then irritate the fibrous breast tissue, resulting in tender or painful and easily felt lumps. After menstruation, irritation diminishes but fibroidal cysts don't disappear.
Skin changes are more typical of abnormal breast lumps than the common fibrocystic breast lumps many women have, and should be examined by a doctor. Watch as Dr. Oz talks more about these changes.
In general, fibrocysts do not lead to skin changes. In fact fibrocystic breast lesions are the most common benign lesions in the breast. They only require surgical intervention when they become painful or continue to enlarge. A fibrocyt is a sac of fluid surrounded by a capsule.
Symptoms of fibrocystic breast changes are often associated with the formation of cysts that women can feel.
Fibrocystic breast disease (FBD) is characterized by the presence of multiple cysts of varying sizes, which give the breast a nodular consistency. Typically, FBD worsens premenstrually and may be associated with breast pain and tenderness.
Fibrocystic breast disease (FBD) is apparently the result of an increased estrogen-to-progesterone ratio. However, other hormones also play important roles. For example, the changes within the breast in FBD may be due to the hormone prolactin. Typically, significantly elevated levels of prolactin are found in women with FBD. The levels are higher than normal, but not so high as to cause loss of menstruation (amenorrhea). The increase in prolactin is thought to be the result of higher estrogen levels.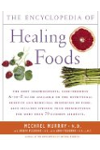 More About this Book
Encyclopedia of Healing Foods
From the bestselling authors of The Encyclopedia of Natural Medicine, the most comprehensive and practical guide available to the nutritional benefits and medicinal properties of virtually everything...
Continue Learning about Gynecology