Infections of the vagina can be caused by Candida albicans (and other yeast species) and Trichomonas vaginalis. Infections are not as common after menopause as they are during the reproductive-age years. Nevertheless, infections of various types may cause itching of the vulva or vagina and, more important, even a mild infection may be the initial cause of the chronic skin condition known as lichen simplex chronicus.
Another vaginal condition, bacterial vaginosis, is associated with Gardnerella vaginalis. These common organisms are frequently the cause of infections in reproductive-age women, as are gonorrhea, chlamydia, syphilis, and herpes. While women can get infections after menopause, changes in the vaginal pH inhibit the growth of yeast and other bacteria, so infections are less likely to be the cause of vulvo-vaginal symptoms in older women.
With menopause, the vaginal lining may become thinner and less protected, a condition called atrophy, because of lack of estrogen. Atrophy may affect the pH of the vagina and make women more sensitive to irritation by normal bacteria or yeast, or may encourage an imbalance in the populations of otherwise normal vaginal inhabitants, leading to bad odors or discharge.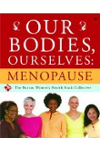 More About this Book
Our Bodies, Ourselves: Menopause
FROM THE EDITORS OF THE CLASSIC "BIBLE OF WOMEN'S HEALTH," A TRUSTWORTHY, UP-TO-DATE GUIDE TO HELP EVERY WOMAN NAVIGATE THE MENOPAUSE TRANSITION For decades, millions of women have relied on Our...
There are various causes for vaginal infections. Some are caused by a fungus called Candida albicans (the cause for the common yeast infection). Another cause is an imbalance in bacteria in the vagina. Lowered estrogen levels in postmenopausal women can also cause a vaginal infection. Vaginal infections can also be caused by a sexually-transmitted parasite.
Continue Learning about Gynecology