By most definitions, you will not enter menopause just by having your uterus removed (a procedure called a hysterectomy). Sometimes when the uterus is surgically removed, the doctor also removes the ovaries. If the ovaries are taken out, you will enter menopause.
A woman enters menopause when she no longer has her periods (monthly menstrual cycles) and she's no longer producing much estrogen. The ovaries release eggs as well as produce estrogen, which regulates monthly periods. If the ovaries are surgically removed, a woman does not have a natural source of estrogen, and she enters menopause. Menopause marks the end of a woman's ability to have children.
In the December 2011 issue of Obstetrics & Gynecology, Duke University researchers corroborated what many physicians have felt for many years, namely younger women who underwent hysterectomy had an approximate 2x increased incidence of early menopause. This early menopause increases a woman's risk for heart disease, osteoporosis, and other medical ailments. While the exact mechanism is not known, it is felt to occur from disrupting the ovarian blood flow during surgery (which allows the uterus to be removed surgically). This disruption causes early ovarian failure and therefore early menopause. This should give woman pause before pursuing hysterectomy for benign conditions like fibroids when there are excellent non-surgical approaches available to treat fibroids (ex. Uterine Fibroid Embolization).
If the ovaries are left, a hysterectomy will not cause a woman to enter early menopause.
Hysterectomy actually refers only to the removal of the uterus, and has nothing to do with the ovaries. And it's your ovaries, not your uterus, which provides estrogen. Since removal of the ovaries is sometimes done at the time of hysterectomy, many people understandably, but mistakenly, think that is always part of the procedure. Women under the age of 50 usually keep their ovaries unless they have a situation in which there is a problem with an ovary, or their ovaries are contributing to their problem, as in the case of severe endometriosis. If you keep your ovaries (a choice you can make!), nothing will change hormonally.
Sometimes, younger women need a hysterectomy to treat health problems such as endometriosis or cancer. A hysterectomy is an operation to remove a woman's uterus. Often one or both ovaries are removed at the same time the hysterectomy is done. If you haven't reached menopause, a hysterectomy will stop your period. But, you will reach menopause only if both ovaries are removed, called surgical menopause. Because surgical menopause is instant menopause, it can cause more severe symptoms than natural menopause. Menopause that is natural occurs as part of the natural aging process. You should talk with your doctor about how to best manage these symptoms.
Women who have a hysterectomy but have their ovaries left in place will not reach menopause at the time of surgery because their ovaries will continue to make hormones. But, because the uterus is removed, they will no longer have their periods and they cannot become pregnant. Later on, they might reach natural menopause a year or two earlier than expected.
This answer is based on source information from the National Women's Health Information Center.
A hysterectomy—the removal of the uterus—may or not include a bilateral oophorectomy—the removal of both ovaries. Only if a woman has her ovaries removed she will go through menopause. Removal of the uterus alone, does not trigger menopause.
Some women decide to remove their ovaries and fallopian tubes at the same time as their uterus because she has a real or perceived vulnerability to ovarian cancer. This is a personal decision usually based on age, health and doctor's recommendation. If a woman under the age of 45 does have both ovaries removed, she will go through early menopause. Most women will go through menopause naturally between ages 47 and 55. So menopause before the age of 45 is considered early menopause.
Hysterectomy is the second most common surgery in the United States, affecting more than 600,000 American women per year. By the age of sixty, about one out of every three American women undergoes hysterectomy. The most recent government health data indicates that 52 percent of all hysterectomies are performed on women younger than forty-four, most of whom are premenopausal. Women have a hysterectomy done for various reasons, including extremely heavy periods that cannot be controlled by less invasive means, fibroids, endometriosis, uterine prolapse, and malignant or premalignant changes of the uterus, cervix, or ovaries. Only 10 percent of hysterectomies are performed because of cancer or suspected cancer.
Not all women who undergo hysterectomy have their ovaries removed at the same time. However, 40 percent of American women under the age of forty-five who have a hysterectomy have their ovaries removed at the time of the surgery.
If your ovaries are left in place and continue to produce hormones, menopause usually will not occur immediately, but menstrual bleeding stops and your fertility ends. Nevertheless, even if your ovaries are not removed and do continue to function appropriately, hysterectomy generally causes menopause to occur more than three and a half years earlier than it would be expected to otherwise. This is most likely because the blood supply to the ovaries is disturbed and because the ovaries require stimulation from prostaglandins (hormone-like substances produced by the uterus) in order to work properly.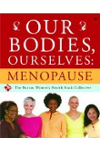 More About this Book
Our Bodies, Ourselves: Menopause
FROM THE EDITORS OF THE CLASSIC "BIBLE OF WOMEN'S HEALTH," A TRUSTWORTHY, UP-TO-DATE GUIDE TO HELP EVERY WOMAN NAVIGATE THE MENOPAUSE TRANSITION For decades, millions of women have relied on Our...
Continue Learning about Gynecology