Treatment of vulvodynia is often multimodal or multiplatform, as with any chronic pain condition. So it's not just one avenue that's taken for the treatment. The following are potential vulvodynia treatments:
removal of potential irritants
topical medications that can be applied to the painful area
physical therapy for the pelvic floor muscles
oral medications that are prescribed to alter nerve firing and get the nerves to go from the bad side back to the good side
cognitive-based therapies, including mindfulness approaches
surgery
The goal of pharmaceutical approaches to treating vulvodynia is to desensitize or block pain signals. Medications can be applied topically, directly on the vulva, taken orally, or injected.
Here are a few options that interrupt pain signals:
Topical anesthetics that contain lidocaine or capsaicin applied 30 minutes prior to activating activity to numb affected area (avoid cortisone topical steroids)
Estradiol cream if estrogen is low
Antidepressant and antiseizure medications that are known to have pain-reducing qualities
Trigger-point injections of steroids or Botox
Patients who see a physical therapist experienced in treating women with vulvodynia can see marked improvement in symptoms after a series of sessions. The therapist works on stabilizing muscle tone to improve contraction strength and structure of pelvic floor muscles, a potential trigger for pain.
Biofeedback, cognitive and behavioral therapies (CBT), and supportive talk psychotherapy can help patients develop self-regulation strategies to cope with the pain and psychosocial distress that can accompany a diagnosis.
As a last resort, surgical procedures (perineoplasty or vestibulectomy) remove tissue that is causing the pain.
Treatment involves removing any irritants and using gentle local care. Loose clothes and cold packs are helpful. Treatment may also include topical lidocaine (Xylocaine), tricyclic antidepressants, or anticonvulsants such as gabapentin.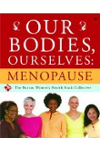 More About this Book
Our Bodies, Ourselves: Menopause
FROM THE EDITORS OF THE CLASSIC "BIBLE OF WOMEN'S HEALTH," A TRUSTWORTHY, UP-TO-DATE GUIDE TO HELP EVERY WOMAN NAVIGATE THE MENOPAUSE TRANSITION For decades, millions of women have relied on Our...
Continue Learning about Gynecology