Working out in a gym isn't necessary for getting fit. In this video, I will explain how a good first move is to find a personal trainer.
Working out in a gym is has its benefits, such as having a large number of exercise equipment available for multiple people to use, group exercise classes like spinning, step, or yoga which are led by an instructor, as well as additional amenities such as a personal training, a swimming pool, or a basketball court. Also, it's now possible to find economical gym memberships. Start by looking up all local gyms in your area. Visit each gym and ask for new member rates. Some new members may also qualify for limited personal training at special introductory rates.
If you're you a true beginner, check out your local gym. Cardio classes are great if you need someone else to push you, and the energy of the other people in the class is sure to motivate you. Most gyms offer lots of choices, including step class, boot camps, indoor cycling, kick boxing, cardio dance class, and more. While you're there, check out the cardio equipment. But note: your body can adapt to these easily so the results you get in the first few months will no longer impress you. Keep changing it up. The recumbent bikes and the sit-up bikes are great for your legs and butt. The elliptical is awesome especially if you can crank the arms as well. Combining a workout with three different cardio machines is also a great way to kick up your heart rate as you know you will be moving on shortly. And if you're feeling intimated, then have a trainer at your facility take you through a workout. Signing up for a short series of training sessions is not a bad idea as this will get your more familiar with the equipment and you'll feel more confident when it comes time for you to be on your own.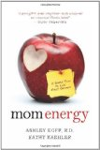 More About this Book
Mom Energy: A Simple Plan to Live Fully Charged
       From celebrated dietitian Ashley Koff and fitness trainer to the stars Kathy Kaehler comes Mom Energy, an exciting new way for moms to tap into their own natural and renewable sources of...
Continue Learning about Gyms/Health Clubs