A recent survey found that between 30% and 40% of people who have a gym membership say they never use it. Very often people get caught up in the sales and marketing efforts around the new year and join. Then they go for a few weeks and find the gym really isn't a good match. So today I have some simple actions you can take to get the most out of the membership.

First, find a gym or club that is close to home or work. The closer it is the more likely you are to go.

Then take a tour and ask as many questions as you want before you join. Make sure it's the right gym for you. What kind of people work out there? Are they like you? Does the staff look friendly or intimidating? Do you feel at ease while you're taking the tour?

Take advantage of free personal training or use of a trainer for a short time. You'll get familiar with the equipment and develop a work routine.

Finally, if you're feeling a little self-conscious train at off-peak hours when the gym is less crowded.

Remember every person in the gym was unsure of themselves the first time they joined. The longer you stick with it, the more comfortable it will become.
Think about these points when choosing a gym:
Try it out. Most reputable clubs will allow you to work out free at least once before joining. That way you can test the equipment and the atmosphere. Do your workout at the time of day that you normally plan to work out to see how crowded the club gets and how long you would have to wait for machines.
Find out about classes. Ask to see a class schedule and talk to some instructors. Find out if classes are free with your membership.
Find out if someone is regularly on staff to answer questions about your workout. Good gyms will have someone available to teach you how to use all of the equipment properly for free. Find out, too, if your gym has personal trainers who can take you through your workout. This usually involves a fee (be particular who you choose as your trainer -- in most city clubs, the fee for a personal trainer is thirty-five to eighty dollars an hour). Although you might not want to use a trainer all the time, having a pro look at your workout every once in a while can do wonders to improve your technique.
Join a gym that is close to your home or work. Fitness club gurus have what they call the "twelve-week/twelve-mile" hypothesis: Most people who join will work out for only the first twelve weeks of their membership, and only if the club is less than twelve miles from their home or office. Find a place that's close and convenient.
Consider the atmosphere. Pick a gym where you feel comfortable. Look at the individuals who go there and think about how you would feel working out among them. Maybe working out with the "twenty-somethings" makes you strive for more. Or maybe you prefer a place that offers classes designed particularly for people over sixty. Some clubs are geared exclusively or primarily to women, and others are more geared to men. Shop around and decide what best fits you.
Check out the equipment. Does it look new? Is it of good quality? Is it what you need for your workout? Don't believe promises about new equipment that's coming in "next week." I prefer a club that not only has the equipment I like, but also the equipment I might use if I develop an injury. So if a club does not have several unused elliptical machines and several unused rowing machines at the time I am most likely to exercise, I recommend choosing another club.
When choosing a gym several factors should be considered. The first and most important thing to consider is the location. Studies have shown that people will not continue to visit a gym that is too far away, generally speaking try to find a gym within 15 minutes of your house or work if you plan on going after work or on lunch. The next thing to consider is what you will be using the gym for and what you want out of the gym. A gym that offers lots of options you won't or don't use is just extra money you're spending for nothing. If a good cardio area is your goal, find a gym that has a nice selection of equipment, if weight training is most important find a gym with a large well laid out weight area, if fitness classes are a goal find a gym with a good selection of classes. It's important to visit the gym during the peak time of the day or during the time of day you plan on working out to get a good idea of how busy the gym will be, and if you'll have to wait for equipment. Try out a few gyms before selecting one as several gyms will probably have different combos of what you seek.

Both are great answers but I believe in addition to the above comments I would also like to add Energy.
The energy of a facility can be a huge factor in your enjoyment in going to the facility. I have heard it countless times that someone does not like a facility or does like a facility solely based on how they feel when they are in a facility. This can be how the gym is laid out, how well they like the equipment, the atmosphere that the members are giving off and the focus of the staff.
Someone who likes a country club type atmosphere is not going to be comfortable in a hardcore gym. Someone that likes personal attention after the sale probably will not like a heavy sales driven facility without much attention on the backend.
All gyms and health clubs have their own unique energy based off several factors. In addition to the above also pay attention to how you feel when you enter into the club and do it more than once. If you continually feel negative when entering the facility then you may want to think twice. If you generally feel good when entering the energy in the facility probably will encourage you to keep coming back.
Remember that although location, cleanliness, price, equipment and staff are all important. However, many people if they like going to a facility will make that their first determining factor when going to a facility. For many people, they are willing to drive to wherever, pay a reasonable price, workout on any equipment if they like being there.
1) Location! It must be convenient to either your work or your home. If it's not convenient you are less likely going to enjoy getting there.
2) Quality and Cleanliness. Is the equipment well maintained or is it rusty, falling apart or even dusty.
3) Price. It doesn't have to be expensive to be good. It should be affordable.
4) Variety of equipment. In the beginning you may not use all the equipment available, but as you progress you will want to expand the equipment you are using. It should have at a minimum, several machines, a well stocked rack of dumbbells, and other miscellaneous pieces of equipment like swiss balls, Bosu Balls, tubing, mats, etc. This helps keep things fun and interesting. Always a bonus to keeping exercise fun and less like a chore.
5) Qualified and Friendly Staff. Don't be afraid to ask about the certification requirements for staff members at the facility.
Also, don't feel pressured to sign a long term contract and keep in mind initiation fees are often negotiable. You should also consider visiting the facility around the time you plan to be there. You should feel comfortable with the activity and energy level of the gym at the time you will be there.
If there are other things are you interested in like child care, classes, be sure to ask about them and visit.
Here are a few tips on choosing the best gym for you:

• Location, location, location. II doesn't matter if you are thinking about joining the Taj Mahal of gyms; if it is not easily accessible to you, you will not go frequently. You think you will now, when you are romanced by the gym's bells and whistles, but you won't. Choose a gym that is less than 10 minutes from your home or work and one that has easy access to parking.

• What is your bottom line? Think about how you like to exercise. Are you a class joiner, a spinner, a runner, a lap swimmer? Do you like pilates, yoga, aerobics? Your gym should have a wide variety of activities that you like to do. It must also have floor space for stretching with an abundance of exercise toys such as exercise balls, stools, and rubber tubing. It should have both machine and free weights.

• Is it equipped? Does the gym have adequate numbers of solo cardio machines and weight equipment to ensure that you won't wait forever? Does the equipment accommodate all skill levels and sizes? Is the aerobics floor wooden or suspended? (Both are easier on the joints than concrete.) What condition is the equipment in? Is it clean? Run your finger along the equipment. If it is dirty or sticky, beware. Are there bottles of disinfectant near the equipment groups? You want a gym that expects members to towel off the equipment with disinfectant after they use it. Alternatively, there should be an attendant who does this after every client. Look down at the carpet and the showers. Are they clean?
• Try it on for size. Most gyms give potential members weekly passes to try the place out. Visit during a time you are likely to work out. When you visit, look around at whom you will be exercising with. Do you feel comfortable? Is staff available to answer your questions or assist you? If the idea of working out among professional hard bodies makes you feel shy, you might try your local YMCA, community center, or college athletic center instead. For women who are uncomfortable working out around men, choose a gym that allows only women or has designated women-only areas. Does the gym offer fitness testing and program orientation?

• Open all night. While most gyms are not open 24/7, they must be open early and stay open late to accommodate you. This includes the weekends.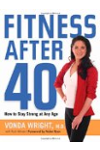 More About this Book
Fitness After 40: How to Stay Strong at Any Age
It's one of the undeniable facts of life. After we reach a certain age, our bodies change. No matter how fit we may have been at 20, we're very different people after 40. But growing older doesn't...
Continue Learning about Gyms/Health Clubs