Like any major transition in your life, even the change toward opening your heart will require you to grieve the loss of a previous lifestyle. An important part of this process involves remembering lost loved ones into your inner world. This means to incorporate the person permanently in some meaningful way as a member of your community.

In the case of death, this may take the form of rituals, such as honoring the person's memory by lighting a candle on important anniversaries. It may take the form of creating memorials or hanging beloved photos in prominent places. In the case of divorce, it may take the form of honoring the gifts in your life that would not be there had this person not been a part of your life.

We are accustomed to the idea of grieving the loss of people we loved, but grieving the loss of a part of oneself or one's life is equally important. The failure to grieve the loss of a part of yourself or a change of lifestyle can lead you to get stuck and fail to make the necessary developmental leap to the next part of your life.

Everyone knows someone who has failed to grow up in some way, like the married man who thinks it's appropriate to ogle other women even when his wife is present. He has failed to grieve his days as a single guy.

I remember being surprised after the birth of my first child that, in addition to the jaw-dropping awe and heart-exploding love I felt toward this miracle of life, I continued to have memories of the carefree and footloose times I had before I was married with children. I was puzzled by how out of place these memories seemed, but soon I realized that I was grieving the loss of a life that was centered on meeting my own needs and having greater control over daily events.

Grieving allows you to enter more fully into a new phase of life. Be guided toward fully grieving the transition to living a more heart-centered life. Your grieving may have stalled if you are hanging on to a life led with your rational mind.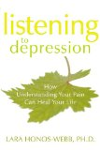 Continue Learning about Grief & Emotional Health