Loss is fundamental to the human predicament. It is not something we can control, prevent, or change. We can, however, control how we relate to loss. And how we relate to loss will determine how we live our lives.

Grieving losses involves dwelling on that which was lost -- the person, the part of yourself, the time of your life -- and turning events into experiences. Grieving is a dwelling, a reworking, a revisiting. Grieving is forming a relationship with loss itself and reforming a relationship with who or what was lost. Grieving involves re-membering -- making what was lost a member of your inner world in a different way.

Maybe it was a family member who died. Maybe it was a husband whom you've divorced. Maybe it was the single life you left when you married. Maybe it was a life of independence you lost when you had children. Maybe it was a city you left when you moved to a new home. Each of these losses needs to be absorbed and processed to make meaning of the loss so you can find the gift in the relationship.

If you try to race past a loss without relating to it in a profound and deep way, it is likely that depression will result. Grief is a natural and predictable result of loss, and ignoring its power can result in depression, substance abuse, and other mental health afflictions.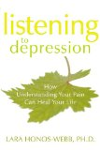 There is no right way to grieve; everyone experiences loss and grief differently. For some, grief may be an external process, and may include crying, despondency or isolation. For others, grief may be an inward process, and the grieving person may not express his or her grief to those around him or her. As every loss in unique, so every reaction to loss is also unique.
Continue Learning about Grief & Emotional Health